Day 2 Prompt: Favorite Food. Describe the look, smell, taste, touch (?), and emotions you experience. If it's a food that you prepare, you can include those details.
This is a tough one. I love food. All kinds of it. My waistline would have you believing in how much I love food as if I cannot get enough of it. And my favorite varies from time to time and day to day. But right now — I have to say it's sushi.
I love seafood and all kinds of fish. Mostly crustaceans (crab, lobster, shrimp) but I also like tuna and I am particularly fond of salmon. Nope nope. I change my mind (somewhat). I think my favorite food is salmon. There are many ways to enjoy salmon — Sashimi, Nigiri or in a roll, as lox on a bagel or in schmear, baked or grilled…. I just love salmon.
There are so many interesting ties between me and salmon. For one, I am a Pisces; that's the fishes for those of you who may not know.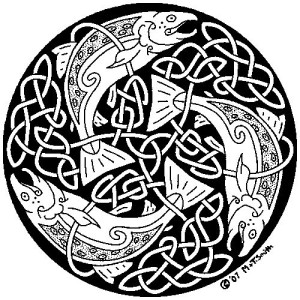 Salmon is the first fish I ever remember eating. I don't recall liking it much the first time I ate it, because it was staring at me. And I remember being at the restaurant at LAX (the weird dome thing) but that might just be a weird remembrance from when I was 4 1/2. I might have the memories jumbled up. I remember ordering it because it was pink (silly me); then later rejecting foods because they were pink. Guess my first experience with Salmon left a bad impression.
But later in a spirit guide meditation, I was led to a pond and the salmon as my guide. I thought to myself: "Why can't it be something cool, like a wolf or a lion or a horse. I have a fish. Sigh." Still, the Salmon of wisdom, beneath the hazel tree had an important message for me: "I am a salmon swimming in a pond, when I swim up stream to spawn, do I really die?" I considered it. The answer was no. The energy of the salmon lives on, in its progeny and though its body may decay, being a mere memory, it is (as are all things on this earth) part of the circle of life. A physical salmon's body gets transformed and becomes the nutrients for all that is around it, and furthers the life these nutrients nourish. No. Nothing ever truly dies.
I accepted the Salmon as one of my guides. Today he is one of the most cherished of my guides and I eat Salmon whenever I can in an act of sympathetic magic. After all, you are what you eat. May I grow wise like the Salmon of Celtic Lore.
Links to learn more about the Salmon
Spirit of the West Coast – The Salmon
Shamanic Journey – Salmon Power Animal
Post Script:
Today I learned a friend passed away. Not a close friend, but one that was close enough. I will miss her and the possibilities that could have been with her, if only I had gotten the opportunity to know her better. She was always kind to me and everyone that knew her. She is loved and will be deeply missed. She will live on in our hearts and minds. Thank you, dear T. Blessings.