Day 12 Prompt: Love
Pick one person* – living – who you love. Describe them.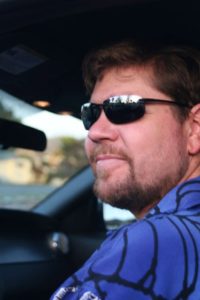 My husband Brett is probably an obvious choice for this. We've known each other for 26 years and through that time we have grown and changed. We've become better people within the sacred space in which we hold and honor our relationship.
I could talk about his physical traits: how handsome he is and how I have always found him to be so. But he's more than just a good looking man: he is intelligent, reliable, dependable, honorable. He has a generous spirit and he can be very caring and compassionate. Often he is quiet and a bit reserved, but once he relaxes and trusts you, he has a fun/mischievous side. I'm the more serious of our pair. I enjoy talking with him and sharing ourselves with each other.
A number of years ago, my husband Brett wrote for me a piece entitled: "Do You Know?" in which he asked if I knew how much he felt for me and if he said it enough. The thoughts and feelings he expressed, the words to express them moved me deeply. This is my attempt to do the same.
How Was I to Know?
How was I to know when you walked into my life that you would love me so completely? Others had whispered promises of "forever" and up to that point in my life that promise was unfulfilled and even recently shattered. I should have known by your acceptance of my response – that I didn't want to promise forever to you because I genuinely didn't know. You still loved and accepted me as I was in that moment all the same. I learned in that moment what the promise of forever sounds like.
How was I to know that you would provide for me the security I needed to grow into the woman I now am? Not just financial security, but emotional security and stability, so I could have the space to grow and learn and become more than I was. How was I to know you would fix my broken wings and let me fly? I should have known when you let me be who I was inside.
How was I to know that I could rely and depend on you when there was no one before you that I could? I should have known when you stood by my side when dealing with our son's diagnosis. When we stood together in resolve that we would figure this autism thing out. You didn't run or shirk your responsibility and now our child has the opportunity to be his own man.
How was I to know how your embrace would make me feel decades later, well after the blush of new and young love had worn off? I should have known by the way your strong arms gently and lovingly held me, making me feel safe and protected. I should have known by the look in your eyes, seeing your love and desire – and especially seeing that over time that had not diminished.
How was I to know the amazing man you would be today? I did know! I knew your potential from your aspirations: to be noble, fair and just. To fight the good fight and win the day. You were then as you are now: My Knight.